Welcome to the first instalment of the Sewing with Knits Series. I have put together this series to help you build your confidence and skills in the realm of sewing with knits.
There is nothing to be scared of. I have heard this said many a time by both beginners and those who have been sewing for years. Once you learn a few of the basics that I will highlight in this series, you will be pumping out plenty of beautiful garments with neckbands that sit just right and hems that remain straight and flat.
I love sewing with stretchy fabric. The makes are quick, comfortable, easy and best of all, simple to fit!
Preparation is key. Here are my essential tips:
1. Use the correct needles
Set up your sewing machine with stretch/jersey or ball point needles. The shape of the needle point prevents skipping of stitches as well as damage to your fabric. It will make a big difference to the quality of your garment.
Use a stretch twin needle to finish your hems neatly. This will give them a similar finish manufactured knit garments which are sewn with a cover-stitch machine.
Check out this chart by Schmetz which gives an overview of the different types of needles and what they should be used for. (No affiliations just a great resource)
2. Presser feet and Pressure
It is important to minimise the stretch your machine places on the fabric whilst you are sewing.
I use my regular general purpose presser foot however if this is not working too well for you then use a walking foot or teflon foot to help minimise the drag on the fabric.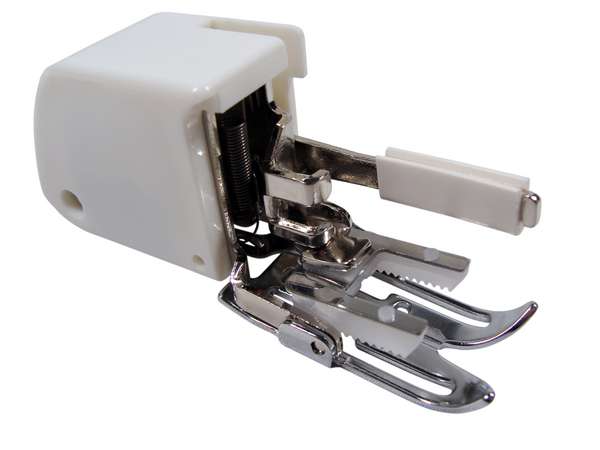 The other very important thing to check is that the pressure of your foot has been reduced. This adjusts how firm the foot is pushing down on your fabric as it feeds through. You may need to consult you manual if you are not sure how to do this on your machine.
Also, ensure your fabric is not hanging off the machine as your are sewing because this can lead to unintended stretching. Here I have made a DIY solution using some of my larger sewing books to elevate the fabric off the table.
4. Check the Seam Allowances
Check what seam allowances are included in your pattern. Some knit patterns are drafted with a 6mm seam allowance because they assume it will be constructed on an overlocker, not a sewing machine.
If you are not comfortable with this or you plan to construct your item on a sewing machine, I reccomend that you add the extra seam allowance onto your pattern before cutting. Extra seam allowance is also a bonus if you need to let your garment out during the fitting process. Check out the Fitting your Knits post for more about this.
5. Use a zig-zag stitch
Owning an overlocker is not required for you to be able to sew knits successfully!
Use the zig-zag stitch function on your sewing machine for construction. A straight stitch is not used as it will not accommodate the stretching of your item when you wear it and will lead to popped/snapped stitches.
Hint: When using a zig-zag stitch, don't backstitch!
6. Sewing Darts
Darts should be sewn (with a straight stitch!) in the opposite direction than your woven garments. This means you start at the dart apex and finish at the darts legs (or side seam).