For the last few months I have only been interested in sewing quick, practical items. This partly due to my need for more simple, everyday wardrobe items coupled with my new found love for sewing with knits which are usually nice and quick makes that don't require extensive fitting.
My favourite projects however are those that use skills I have never learnt before and where I feel I can advance my sewing skills just that little bit further. So on the hunt for a 'slow-sewing' project and a learning experience, I decided upon the Kelly Anorak by Closet Case Patterns. Most projects I start on a whim, which usually involves a rush to Spotlight to find the most suitable fabric followed by a binge sewing sesh (nothing wrong with that though!). Although this process has worked for me and will most likely continue, I felt that some thoughtful planning would be needed for this more complicated make.
Decisions, decisions...
Until this month, I had never bought fabric online. It may seem completely bonkers for any modern day sewist however for a long time I found it difficult to get past buying fabric without being able to touch it (I mean caress it!). This along with the poor description on some of the online shops , has for a long time been put me off buying fabric online.
Helen from Closet Case Patterns writes great posts for each pattern that she releases and her post about fabric recommendations for the Kelly Anorak was very helpful. Also, one of her own makes of the Kelly Anorak was my main inspiration. In line with Helen's fabric suggestions, I decided that I want to make the outer shell using twill fabric. I also wanted to add underlining which she discusses in this post. Underlining is used to add warmth to the jacket and I have never used this technique before so am keen to give it a whirl. ( Side note: They have since released an add on pack if you want to make the coat with a full lining).
And so began my search for the perfect fabrics. I decided that since I was taking on this new slow and methodical approach, I would order a few fabric samples from Australian based online fabric stores as well as look around my local favourites bricks and mortar stores. As much as I would like to shop from online fabric stores from all over the world, I just cannot justify the shipping costs. :-(
These are the samples I ordered form online. From The Fabric Store, I got two samples of these cotton twill. They didn't have any wool flannel, so I opted for wool flannel samples from The Remnant Warehouse pictured on the right.
I also purchased the Kelly Anorak Hardware Kit which conveniently includes everything including the tools needed to install the snaps, zips and grommets.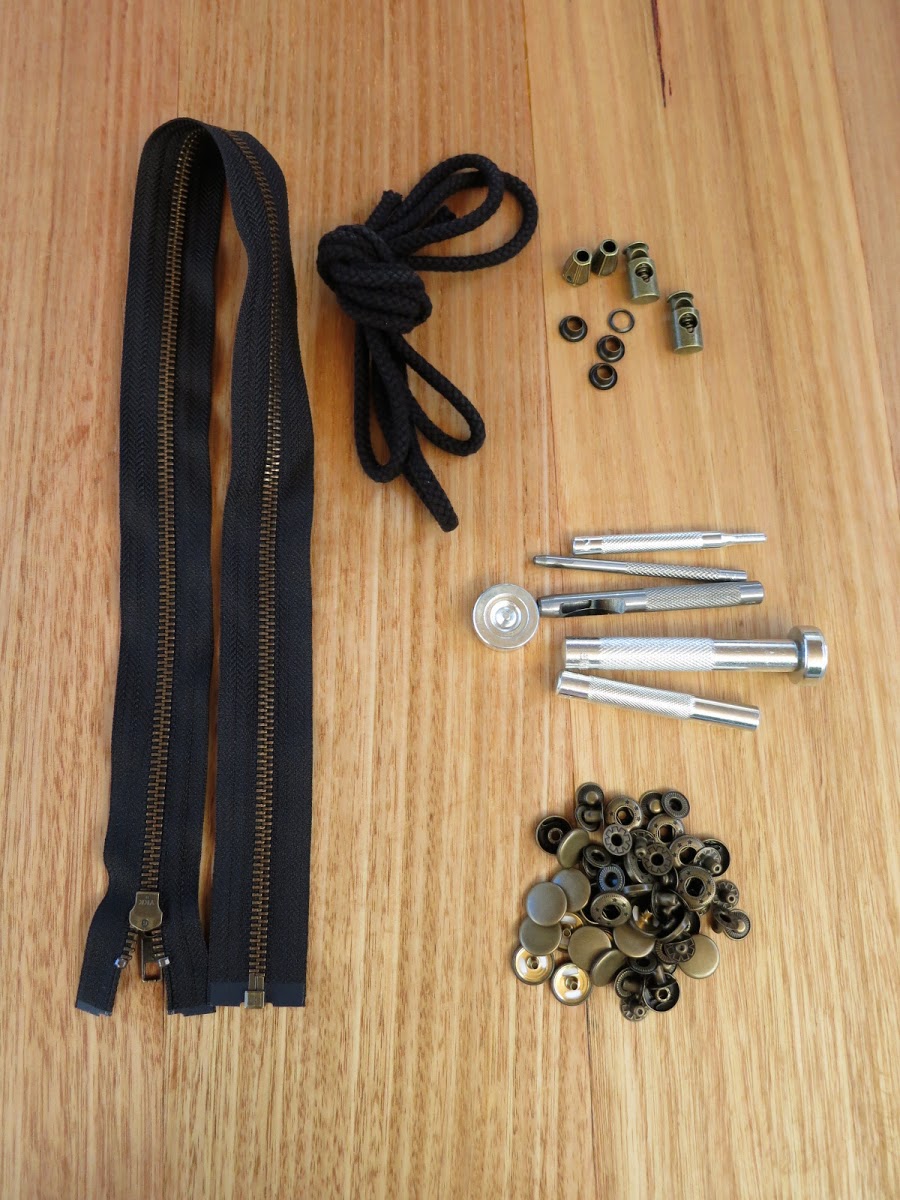 FINAL FABRIC DECISIONS
I have chosen the solid red twill fabric for the outer shell. Unfortunately, I haven't fallen in love with any of the flannel samples however I noticed that the striped cotton twill sample matches beautifully with the solid red twill. I may consider using this if I can't anything in wool that I really like.
UPDATE:Aug 2017
Ok so it's time to confess. In the end I didn't use any of the above fabric because they just were not right. I decided the sateen twill from The Fabric Store was too thin in the end. So alas I caved and ended up back in Spotlight buying whatever I could find that would be suitable. Grrrr! Patience is not my strongest trait!
FINAL FINAL FABRIC DECISIONS
For the outer main fabric, I have risked looking like Little Red Riding Hood and chosen a bright red cotton twill from Spotlight. The lady helping me at the store informed me that this fabric is used to make school pants so she assured me it is robust and hardy!
For the underling, we have yet another Spotlight purchase which is a cotton flannelette. I decided to go with a fun print because it is not very often there is an opportunity to use these kid-friendly print for my own clothing designed for the public eyes (i.e. not PJ's).
Next up: The Making of Series//Kelly Anorak//Part 2.